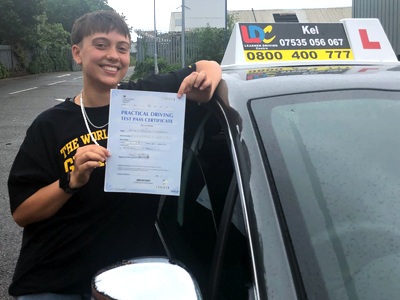 Ruby Parker-Harbord
Passing My Driving Test
I started learning to drive with Kel during the pandemic and it was really great to have such a patient and calm instructor helping me to get onto the roads. It being during multiple lockdowns etc, it meant our lessons could have large breaks in between them but as Kel had always reminded me of the rules of the road, tips for parking etc, I felt confident when I got back into the car after a long stint. She always had answers for my questions and clarified anything I might not understand! Kel was brilliant and also just a super lovely person! I'll really miss having her next to me in the front seat!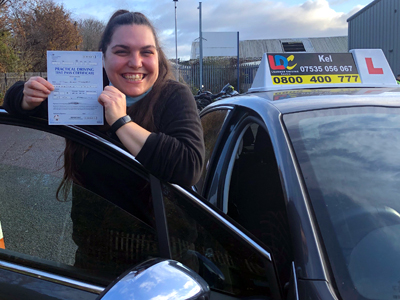 Alex
First Time Pass
Kelly is a phenomenal teacher. She is patient, kind and makes driving an enjoyable experience. She will help you practice any areas of driving you are unsure about. She is calm, encouraging and never makes you feel bad for making a mistake. She genuinely cares about you passing and will take the time to help you pass your test with every confidence in your new life skill. I honestly could not recommend Kelly high enough.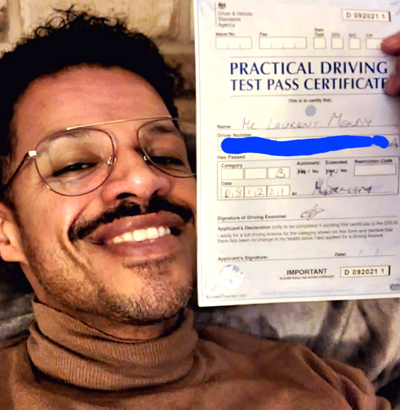 Laurent
Passing My Driving Test
I just passed my practical driving test and l have to say without Kel's help l would have struggled with the roads of Mitcham. Thanks to Kel l felt confident on my test day. Not only did she make sure I had the opportunity to drive on as many different possible test roads, but she was amazing to learn with and taught me skills that l will keep for life. I can't thank Kel enough for helping me getting my driving licence and also giving me the confidence to drive alone. I would highly recommend Kel.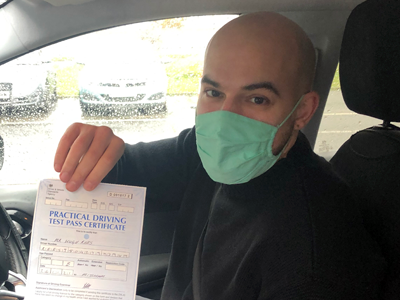 Hugh
Passed 1st Time
Kelly's calm and informative teaching style really gave me the confidence to past my test first time. Really happy with the lessons and the results, would recommend her to anyone looking for an instructor.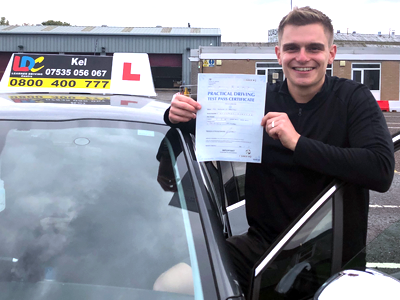 Aaron
Passed 1st Time
I was desperate to pass first time and I could not of done it without Kel. Every lesson was calm and clear and I left each lesson feeling more and more confident. It was a pleasure to learn with Kel and I encourage more people to do so.
Rebecca D'Costa
Passed 1st Time
Kelly has been an amazing teacher. The lessons were well planned and enjoyable, she gave great feedback and was happy to answer my many questions. She was always calm and reassuring with clear explanations of how to carry out manoeuvres, enabling me to drive with confidence. With Kelly's help and encouragement I felt well prepared for my test and was able to pass first time - I couldn't have done it without her!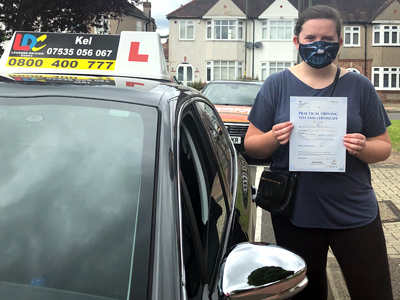 Imogen
First Time Pass
Kelly has been the best driving instructor I could have asked for. Whenever I struggled with a manoeuvre, she would always make it very clear as to how I could improve; her explanations were simple and easy to understand every time. In the lead up to my test, she helped me feel confident in myself and my driving which was something I needed during that time. With her amazing teaching I was able to pass my practical first time.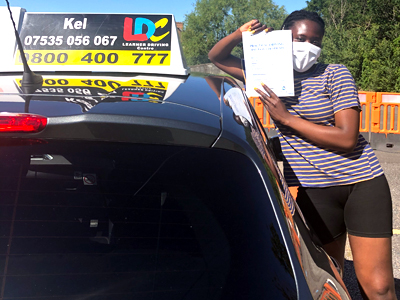 Nancy
Second Time Pass
I'm so glad that Kel took me on as a student! After moving back to London during the first lockdown and abruptly interrupting my lessons I was desperate to get back on the road and get this license. I was so fortunate to have found Kel; she helped me by starting from scratch with me. Throughout all of the lessons she was always calm, patient and reassuring. She made sure I was completely comfortable and at ease in each lessons while being patient. She constantly encouraged me in every way she could, (even after failing the first test) until I passed. In very thankful and grateful for the hard work she put into teaching me.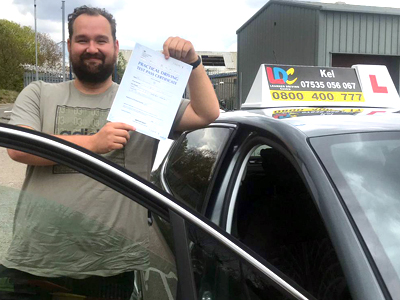 Ben
Passing My Driving Test
I couldn't have asked for a better teacher than Kelly. Learning to drive when nearly 30 is never easy but Kelly knew when to speed things up and when to slow things down in my lessons. Kelly was always flexible with my lessons and made the test itself as stress free as it could possibly get. I couldn't recommend Kelly more.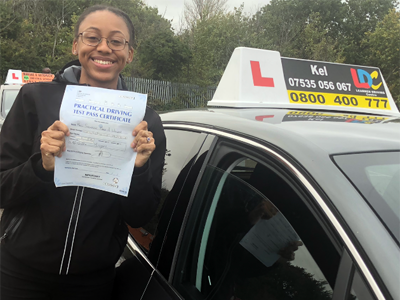 Shanayde Walker
Passing My Driving Test
I had to move back home due to covid where I contacted Kelly to see if she could help me so that I could carry on learning to drive and gain my licence. I found Kelly so easy to understand, learn from and she was very helpful even during these times. I managed to Passed my test just before second lockdown which I am very pleased about. I was very happy with Kelly and I would definitely recommend her.
Frances Rudgard
Refresher Lessons
I really enjoyed my lessons with Kelly. The best thing was that she really encouraged me to be confident and to feel in control of taking decisions whilst on the road. I felt like she really cared about my progress. Kelly also helped me think about what car to buy and helped me with a lot of the basics like filling the petrol for the first time. I really enjoyed my lessons with Kelly.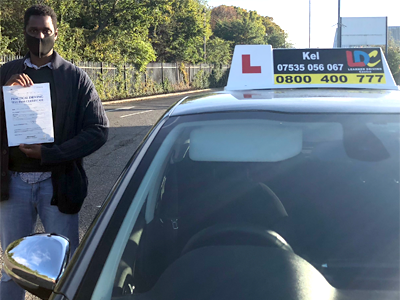 Isaac
Passed 1st time
I'm so grateful to Kelly for all her work as an instructor. Throughout the process she's been patient, clear and direct in her lessons. Previous instructors I've had, while helpful, lacked the same personable approach and constructive support that Kelly has displayed. Her feedback would continue outside of the paid lesson time, meaning you'd always be learning. I would certainly recommend anybody looking for a reliable and safe instructor to contact her. With her guidance, I was able to pass my driving test on the 1st time and I honestly cannot recommend her enough.
Jessica Keeble
Driving Lessons
Kelly is always calm and pleasant to drive with, she gives clear instructions and brilliant technical guidance. She really knows her stuff and really cares about her students progress. I would definitely recommend her to a friend
Hayley
I Passed 1st time
Kelly was such a fantastic instructor. Our lessons were enjoyable and she made me feel so relaxed whilst driving. Her good teaching enabled me to pass my driving test first time with only two minors. I highly recommend Kelly as she is a kind and patient teacher and has helped me become the confident driver I am today!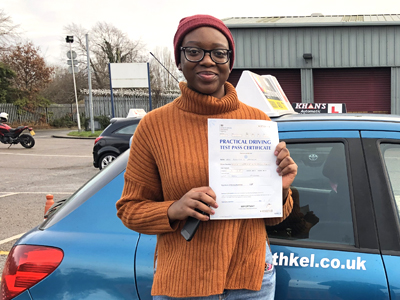 Rebecca Masinja
Finally Passing My Driving Test
learning to drive with Kelly has been a dream. I've had previous instructors but I can honestly say Kelly has been the most calm, helpful, patient and personable. She's always able to answer my questions and provide me with constructive feedback. I would happily recommend her to others (and already have). I'm glad to say that with her help I've finally been able to pass my driving test!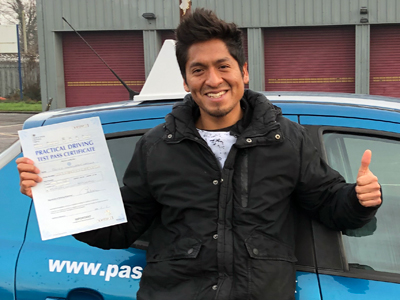 Renzo
Passing my driving test
I am very grateful to Kelly for helping me pass my practical driving test. Kelly was very supportive and encouraging, and made me feel really comfortable at the wheel. I had failed the test 3 times due to nerves before I met Kelly and she had an immediate impact on my driving. She just let me drive a lot and was very good at timing her feedback so I could just concentrate on the road and what was ahead of me instead of constantly thinking about what I was doing wrong. I highly recommend Kelly to anyone who's looking to pass their driving test, particularly to those struggling with nerves.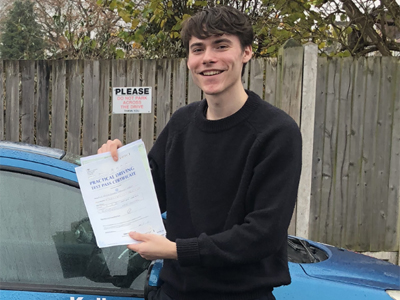 Kester Abbott
Passing My Driving Test
I have really enjoyed taking my driving lessons with Kelly. The lessons were carefully planned and focused around improving areas that initially I didn't feel so confident in. We also built on other areas previously covered, giving me plenty of time to feel confident and fully prepared for my driving test. Kelly is easily approachable and fantastic at explaining areas which I had been unsure about clearly and easily, making driving a safe and enjoyable experience. I felt I had great support and guidance from Kelly through out my learning which made the lead up to my test less daunting. I am so happy to have passed and I can not recommend enough how great an instructor Kelly is and how she has helped me achieve this.
Cynthia
Learning to drive
After looking online to find driving instructors I came across Kelly and I am so glad I did. She is an amazing driving instructor. She is very patient and has no problems in explaining things over and over again. Her teaching style is very unique and she is also very encouraging. I just started my lessons and I already feel very confident and it has been absolutely worth it!
Rachel Wheeler
Driving Lessons
I approached Kelly at the age of 37 as finally decided it was time to bite the bullet and start driving lessons. Anxiety and a lack of confidence had help me back until I met a Kelly. Kelly is a friendly, patient, diligent driving instructor who is very calm and supportive. A few months on and I am enjoying driving and hope to be test ready soon. Thanks Kelly for all your guidance and support as without you I don't think I would have had the confidence to keep going.
Amber Roberts
Driving Lessons
Kelly has been absolutely fantastic with the driving lessons, she's patient, calm and to the point. When I ask her for help or advice or different ways of approaching the lesson she's always on the ball. I had 3 lessons 8 years ago and honestly if I'd of had Kelly then I'd be driving now! She's quick on her feet and calls me out when I do something wrong- but she doesn't make you feel bad for mistakes as guess what? You're a learner and it's ok to make mistakes. Using the LDC book and online materials have been a life saver! When I log into the online platform I can remind myself of everything we learnt in the lesson, and work my way through the theory tests! I highly recommend LDC and Kelly for anyone who wants that special touch and to push you beyond your limits to succeed!